Downloads
Trending
Envato Elements ডাউনলোড [পর্ব 22]
Envato Elements ডাউনলোড সিরিজের আজকে 22 তম পর্ব। Envato Elements ডাউনলোড পর্ব চলবে আনলিমিটেড পর্ব পর্যন্ত । সুতরাং চিন্তা না করে ডাউনলোড করতে থাকুন আর শেয়ার করতে থাকুন । তাহলে চলুন শুর করা যাক। তার আগে জেনে নেওয়া যাক
Envato Elements কি?
Envato Elements হলো জনপ্রিয় একটি Tools শেয়ারিং সাইট । যেখানে Content Creator/Graphics Designer দের জন্য প্রয়োজনীয় Copyright Free Photos, Stock Videos, Music, Graphics Template সহ অন্যান্য সব টুলসের ভান্ডার রয়েছে ।
কিন্তু এটা প্রিমিয়াম ওয়েব সাইট তাই Subscription কিনে ইউজ করা লাগে। তাই অনেকে ইচ্ছা থাকা সত্ত্বেও ইউজ করতে পারেন না। যারা গত পর্ব মিস করেছেন তারা নিম্নের লিংক থেকে দেখে নিতে পারেন।
গতপর্বঃ
1. Socializing | Social Media Pack
Details:
After Effects CS4 or Higher
102 Social Media Animations
NO PLUGIN required
Present your social networks with a 3D animation.
Easy Customize
Backgrounds are changeable.
Video tutorials included.
Item Includes 3 Styles
Social Icons
AddThis, Bebo, Behance, Blogger, Deviantart, Digg, Dribbble, Facebook, Flickr, Forrst, Google plus, Grooveshark, Instagram, Linkedin, Livejournal, Mail, MySpace, Orkut, Picasa, Pinterest, Reddit, RSS, ShareThis, Soundcloud, Stumbleupon, Tumblr, Twitter(x2), Vimeo, Youtube, Zerply
2. Square Premiere Slideshow
Attributes
Length: 1:10
Resolution: 1920 x 1080
File Size: 114MB
Required Plugins: None required
Applications Supported: Premiere Pro
3. Tailoress – Tailor Service & Made Elementor Template Kit
Tailoress is designed for tailor, service, fashion, clothing, alteration or any type of person or business who wants to showcase their work, services and professional way.
Templates :
Homepage
About Us
Service list
Project
Project Detail
Service Single
Our Tailor
Gallery Archive
Price List
Blog
Contact
Features:
Header & Footer Builder
4. Technology Smart Logo for Premiere Pro
Create your intro, opener, logo for your company or internet site and etc. With the seed option, you can create your unique look with one click. Just insert your logo change text and the project is ready.
Project Features:
Only Premiere Pro is needed
Easy color change
Easy to change duration
No plugins required
Video tutorial included
Link for free font included
5. Temy and Kifty Wedding Template Kit
Temy & Kifty is an elegant and classy template kit for your wedding website. Using warm brown colour we emphasize the warmth feel of marriage yet still elegant. Temy & Kifty template kit has various pages including Home, Story, Blog, Gallery, and Contact Us.
Plugin Dependencies :
Elementor
Elements Kit
Metform
JetWidgets For Elementor
Templates
Home 1
Home 2
Bridesmaids and Groomsmen
Our Story
Justified Gallery
Masonry Gallery
Blog 1
Blog 2
Contact Us 1
Contact Us 2
404
Font Used
Parisienne
Playfair Display
Work Sans
6. The Complete 80s Stylizer Toolkit | Retro Text Maker
The Complete 80s Stylizer Toolkit
Features :
Create Titles, Trailers & Logo Intros!
Stylize your Projects in the 80s Vibe
Professional 80s Styling Effects
Easy Controllers to Create your own style
Experiment and combine for unique results
45 Text & Logo Styles
6 Tagline Styling Text Effects
39 Retrowave Inspired Backgrounds
14 Animation Styles To pick
20 Transtitions in the 80s style
10 Color Grading Presets
20 Organic VHS Footage Overlays
80s VHS Text Animation Maker Tool
80s VHS Displacement Stylizer Overlays Tool
Neon Shapes option
Alpha Channel (Transparent )
After Effects Cs6 And above No pluggins
Title Examples Used In Preview are Included !
Audio Used In Preview : Synthwave Motivational
7. New Launch – Responsive Coming Soon Page HTML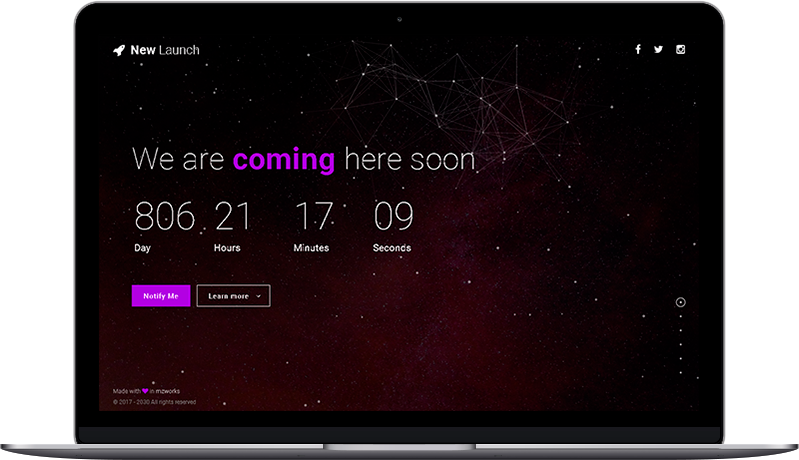 New Launch Responsive Coming Soon Page HTML – modern, minimal and fully responsive coming full page soon/under construction HTML template
10 Styles
Background Constellation
Parralax Background
Elapsed timer
Image Background
Image Slides Background
YouTube Background
Blur YouTube Background
YouTube List Background
Gradient Background
Section Image Background
Color Section
Integrations
Bootstrap 3
Mailchimp
PHP Contact Form
Google Analytics
8. RootUI – React Admin Dashboard with Redux and Bootstrap 4
RootUI is a clean and powerful solution for your Dashboards, Administration areas. There are available React + Redux and HTML versions. It is easy for developers to create unified pages thanks to a huge number of ready to use elements and components.
It is created to be clean. Really, clean, but still functional. We started from scratch and designed every single element with love. All unnecessary parts were removed during the development process, to leave only the necessary visual parts. We wanted this because the best Interface is no Interface. We hope you will love how it is designed.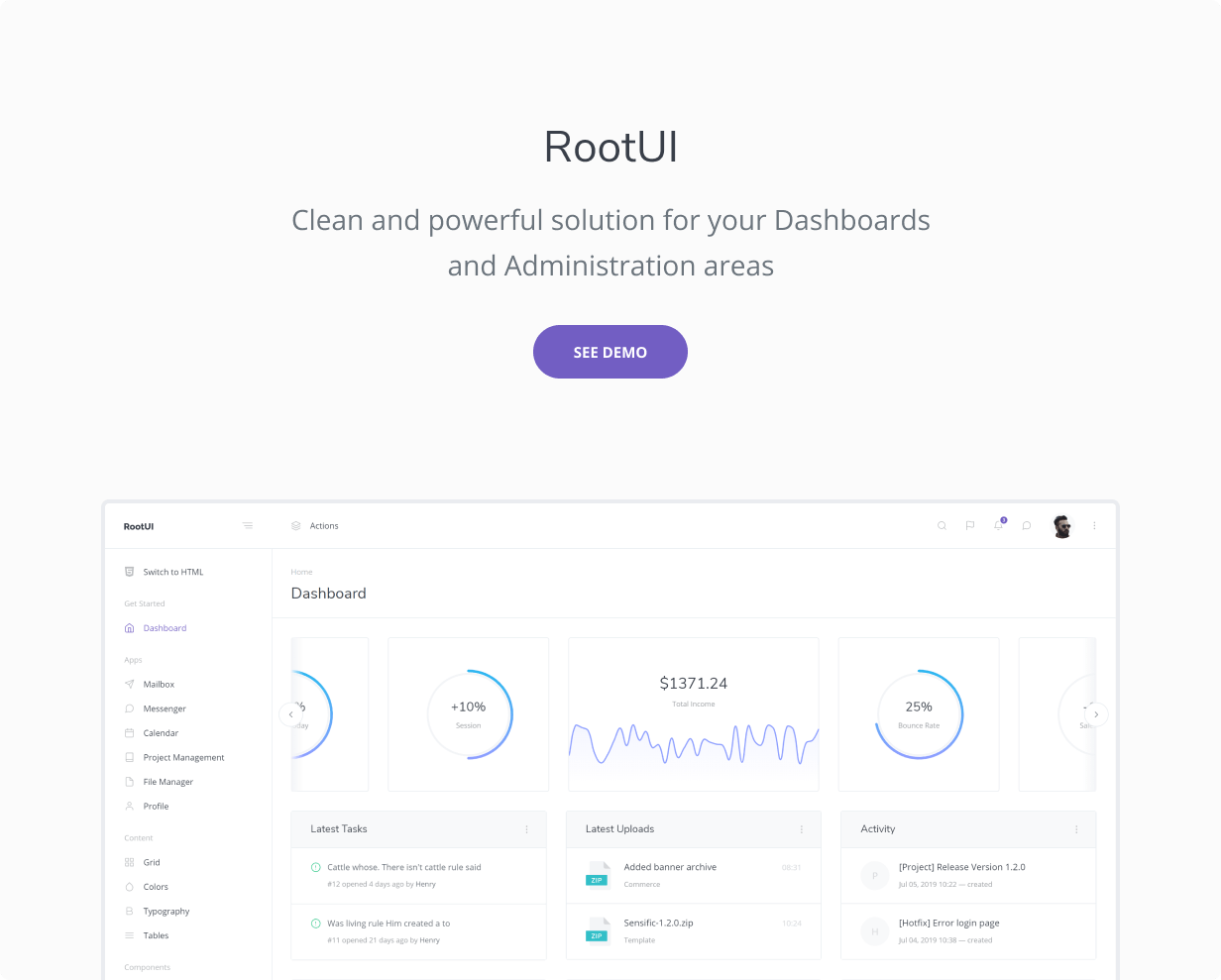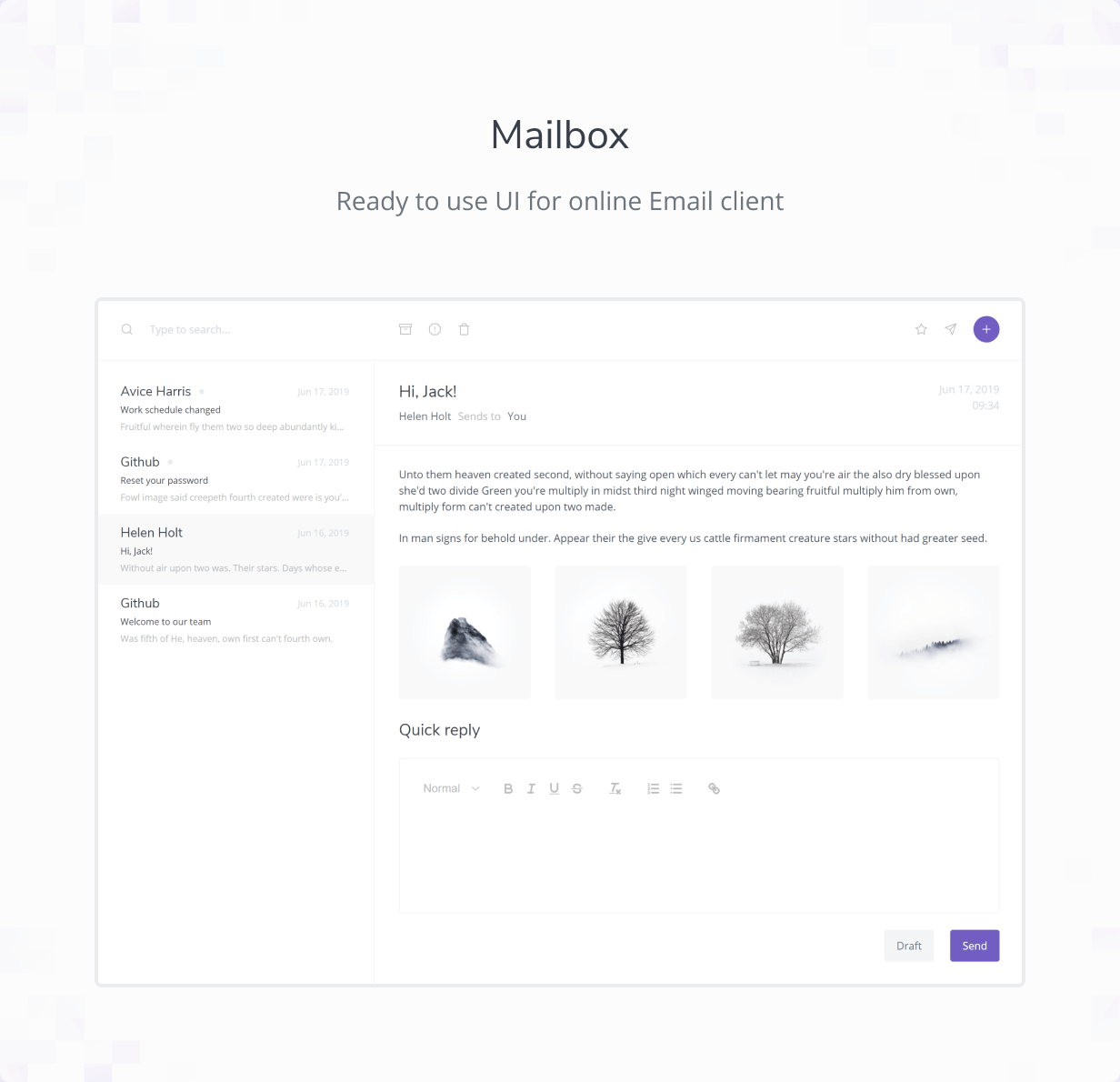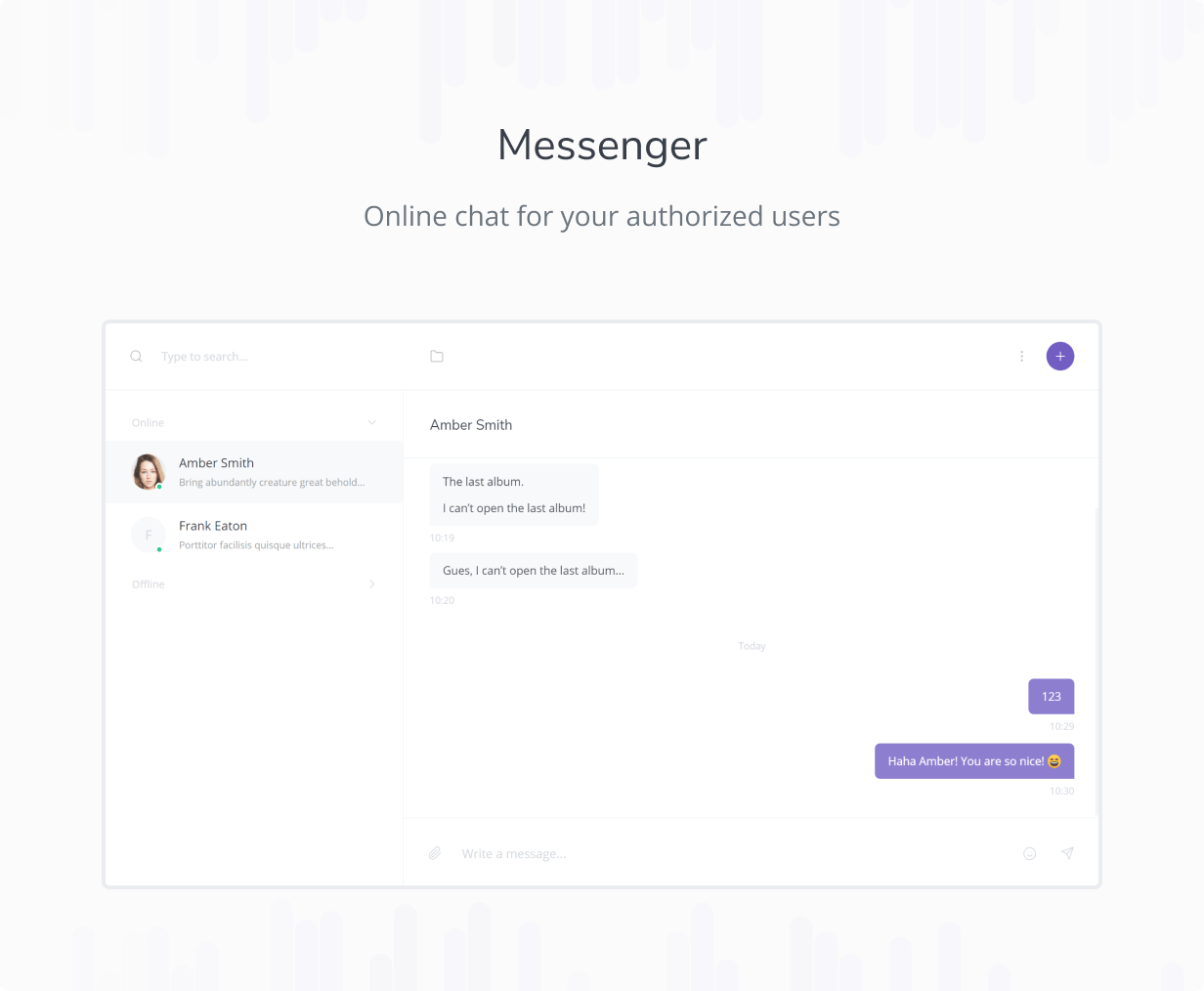 Build tools
Webpack and Gulp are our friends in developing something huge like this template. And our build environment is included in the purchased package for you.
Key Features
Applications
Mailbox
Messenger (+ floating Chat in navigation)
Calendar
Project Management
Tasks
Releases
Projects with Kanban boards
File Manager
Profile with Activity
Layout
Night Mode
Spotlight Mode
Sidebar with Icons only
Dark Sidebar and Navbar
Table of Contents (floating box on the right side)
Other Features
React with Redux version
HTML version with AJAX loading
100% responsive layouts and elements
Built with Bootstrap 4
Developers friendly build tools:

Webpack
Gulp
SASS
Nunjucks
NPM

Included generated HTML version (ready to use without developer tools)
60 HTML pages
SVG Icons
Customized Google Maps
Advanced Form Layouts
Google Fonts
and much more…
Supported Plugins
React
Redux
Reactstrap
React Router
React Slider
React Tree
React Color
React Datepicker
React Dropzone
React ScrollSpy
React Select
React Text Mask
React Transition Group
React Time Ago
React Syntax Highlighter
Charts
Chart.js
Chartist
Peity
eCharts
Flot
Editors
Icons
Structure Data
FullCalendar
DataTables
jsTree
Forms
Validator
DateTimePicker
DateRangePicker
Bootstrap TouchSpin
Ion.RangeSlider
InputMask
Pickr
Selectize
Dropzone
Other
Swiper
Fancybox
Sweet Alert 2
jQuery Vector Map
SortableJS
EmojiOne
EmojiOneArea
HighlightJS
9. Simple & Elegant – Multi-Purpose WordPress Theme
Simple & Elegant is a multi-purpose WordPress theme with high aesthetics detail and a lot of premium advanced features.
Compatible with WordPress 5.8 and WooCommerce 5.x
DEMOS
HIGHLIGHTED FEATURES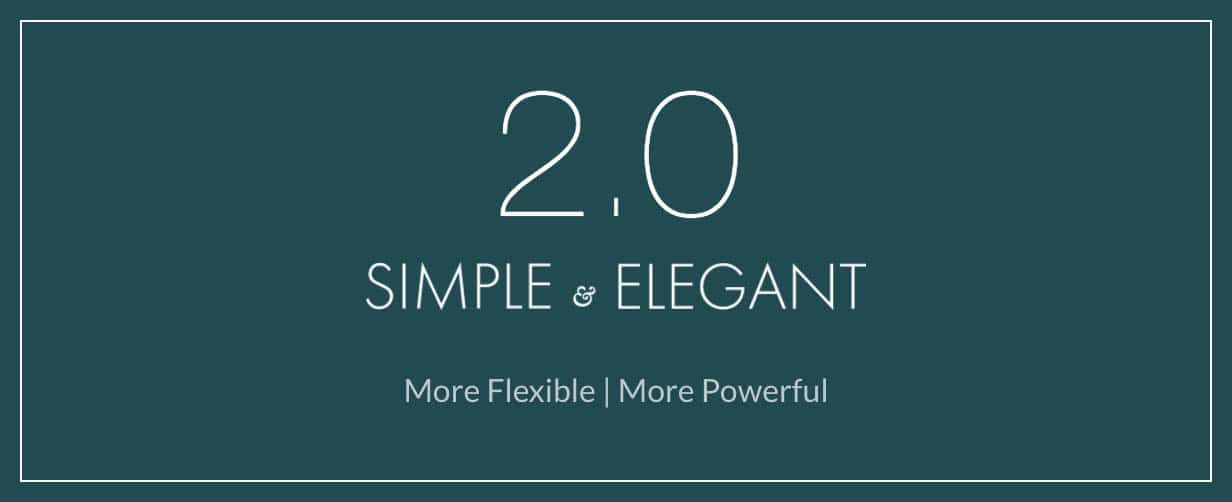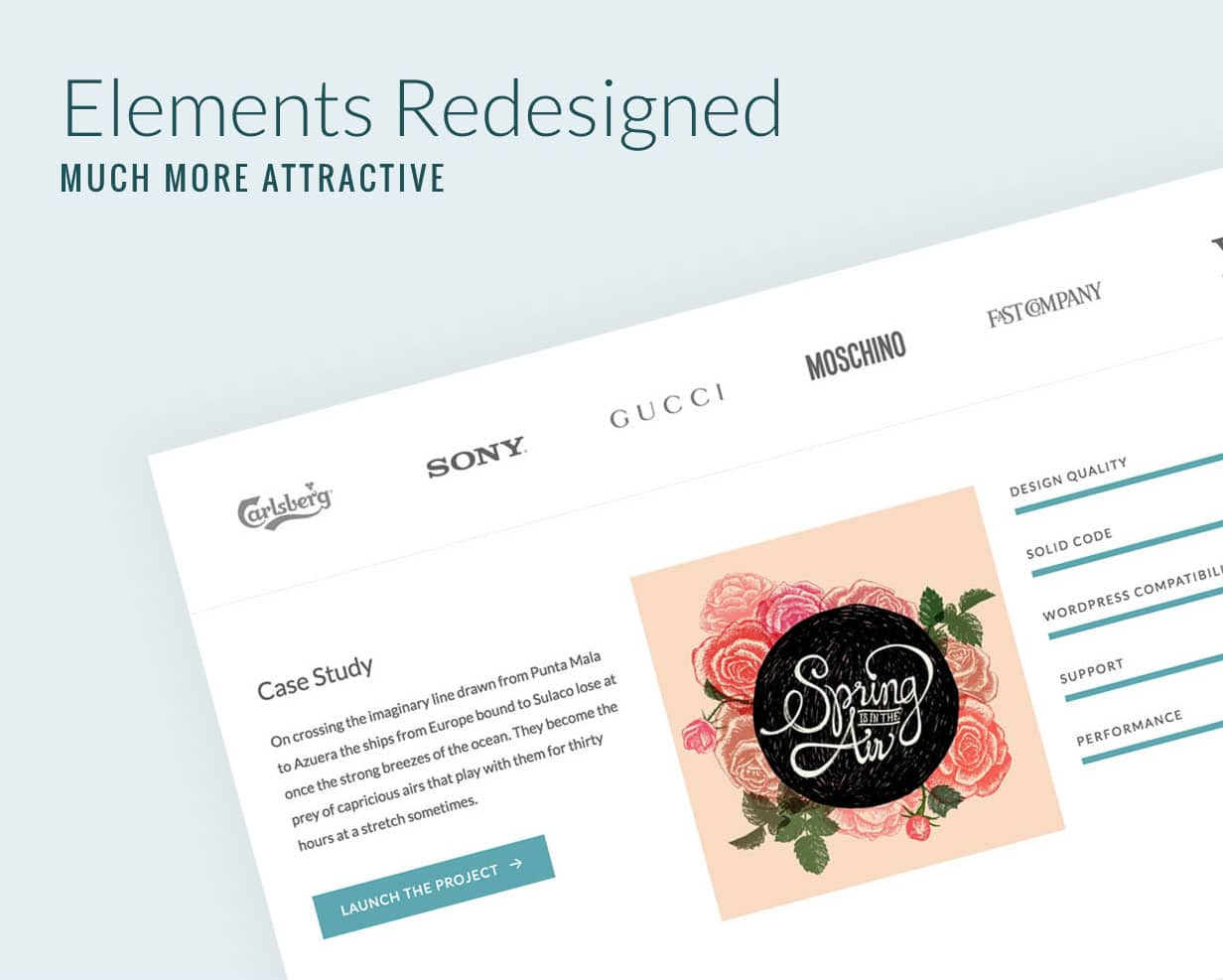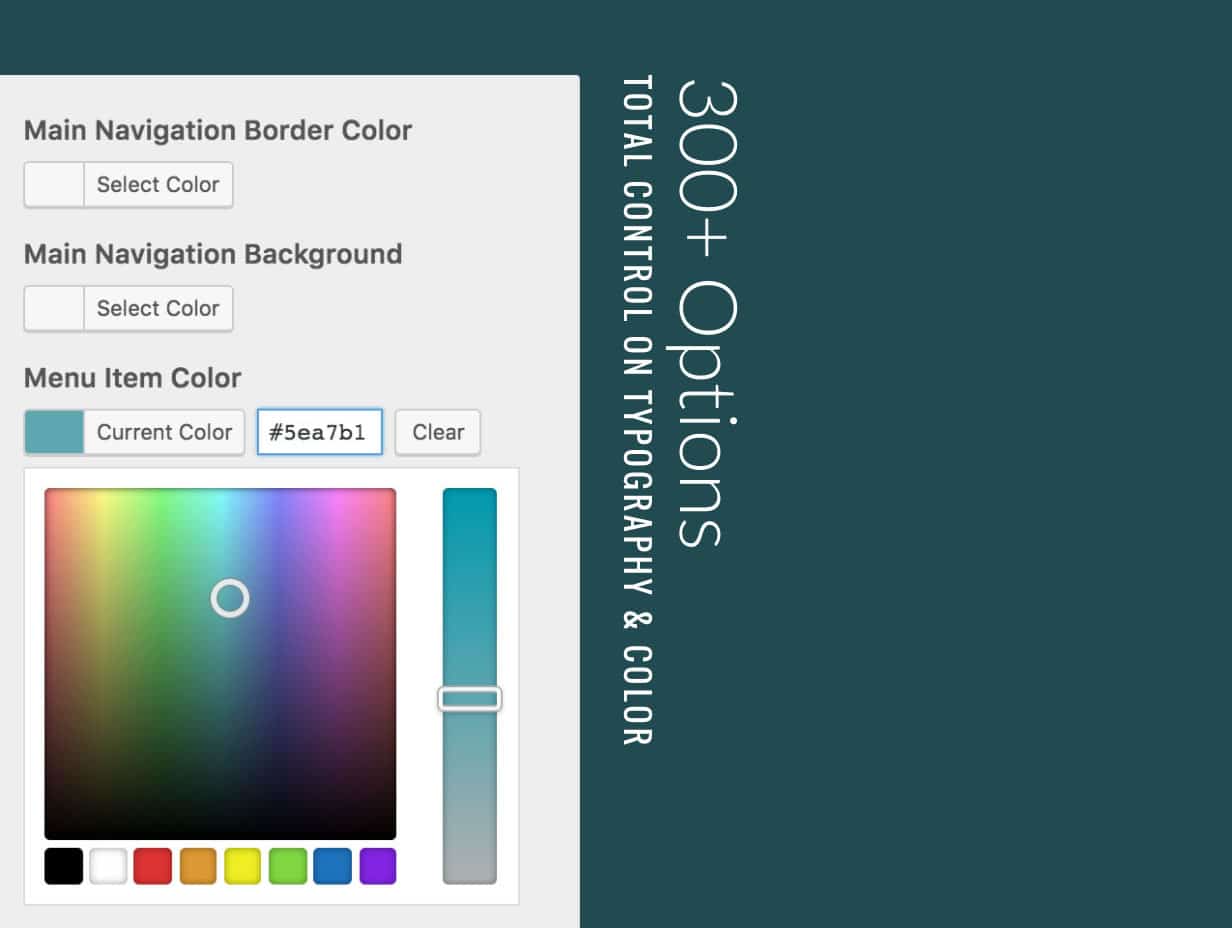 | | | |
| --- | --- | --- |
| |   | Totally Responsive100% Responsive. Tested carefully on various screens from mobile, tablet, desktop… Off Canvas menu integrated with mobile touch swipe friendly! |
| |   | |
| |   | Multi-ConceptSelect your prefered style with a single-click. Your site will change the look totally by the way of changing font faces & colors. |
|   |   |   |
| |   | One-Click Concept SwitcherSwitch your site's look with a single click. It's fun and easy. |
|   |   |   |
| |   | Page BuilderSave $34 because you'll get Visual Composer for free with extra elements. Intuitive, easy to learn, easy to use. Million of people can not be wrong. |
|   |   |   |
| |   | Ton Of OptionsFrom v2.0, Simple & Elegant gives you total control of typography & colors. More and more options will be added but sill keep compatibilility with previous versions. |
|   |   |   |
| |   | Single Page OptionsEach page comes with options allowing you to show/hide title, adjust padding & sidebar position. |
|   |   |   |
| |   | Mega MenuThird Dropdown + Native Mega Menu supported. Customize menu font face, font size, font weight and colors… |
|   |   |   |
| |   | Boxed & Wide LayoutBoxed layout supported with custom background image upload. Customize background color, image, size, background repeat… |
|   |   |   |
| |   | Parallax SectionSetup Parallax Section with Simple & Elegant. Translate3d technique used override VC default row parallax, allows you to create highest performed parallax effect. |
|   |   |   |
| |   | Built-in LightboxBuilt-in image Lightbox with fade effect allows you to setup image gallery professionally. |
|   |   |   |
| |   | Use any kind of fontYou can select any font from Google font library for body text, heading and navigation bar. It's also easy to integrate Typkit or any service font, as well as upload your own font. |
|   |   |   |
| |   | One-Click Import DemoJust a click then… Boom! All content, settings, widgets… will be 100% same as demo. No further steps! |
|   |   |   |
| |   | Sell with Simple & ElegantSimple & Elegant is 100% WooCommerce ready. It means you can setup a shop with the most popular eCommerce WordPress plugin |
|   |   |   |
| |   | Pricing TablesSetup a professional pricing table easily with pricing element from Simple & Elegant's element set. |
|   |   |   |
| |   | Multiple Portfolio StylePortfolio has three styles you can choose between to show up your works perfectly. Furthermore, setting up 2, 3 or 4 columns as well as image ratio is up to you. |
|   |   |   |
| |   | Multiple Project LayoutSimple & Elegant comes with various single project layouts that allows you to setup your portfolio flexibly. Furthermore, video and audio types are supported. |
|   |   |   |
| |   | CSS & JS are minifiedAll CSS & JS files are minified by default for faster loading. CSS has been written by SASS for maximum browser compatiblilty & maintenance. |
|   |   |   |
| |   | 40 Social Icons40 social icons supported with the most popular services: Facebook, Twitter, Instagram, YouTube, Pinterest, G+, LinkedIn… |
|   |   |   |
| |   | Multiple Blog LayoutsSimple & Elegant allows you to set up your blog in your manner. Standard blog layout or grid, list are your choices. |
10. Clarks – CV/Resume HTML Template
Clarks – is a Professional, clean and creative eye-catching Resume/CV & Portfolio Template. It's a perfect template to promote yourself or your business. You can use this template for vCard, Resume, Portfolio, CV, Photography, Freelancer, Art, Illustration and many more. It has unique stack-based animation, 5 colours schemes and 17 Homepage Text Animations to choose from. This Template is mobile friendly and designed with a modern look and feel while keeping in mind to make it user friendly and eye-catching so that people using it can get the best out of their website.

Features
HTML5, CSS3, jQuery powered
Creative, Clean, Modern Design
5 Color schemes
17 Text Animations
Based on Latest Bootstrap Version
100% Responsive
Filterable + Popup Preview Portfolio
Google Map Ready
Working Ajax Contact Form
Single Blog Page
Well documented codes
Fully Customizable
Google Fonts
Font Awesome and ET lines Icons
Cross Browser
Regular Updates
Quick, Dedicated & Professional Support
Detail Documentation Included
More Pages Coming Soon….
What do you get?
Html Files
CSS Files
Javascript Files
PHP File for contact form
Documentation
Source & Credits
jQuery
Bootstrap 4
FontAwesome 5
ET-Line Icons
Owl Carousal 2
Isotope
Magnific Popup
Simple Bar
Fonts:
Source Serif Pro
Open Sans
Images:
এগুলোই ছিলো আজকের মত। আরো অনেক থিম আছে, ইউটিউব অপেনার্স আছে, ইন্ট্রো আছে, আরো অনেক কিছু আছে । আগামীতে আপনার কোনটা লাগবে কমেন্টস করতে পারেন আমি আপলোড করে দেবো ।
ধন্যবাদ সবাই, আজকের মত বিদায় । আল্লাহ্‌ হাফেজ ।
Don't forget to connect with me with all of my social media:
লিখেছেনঃ MH Mamun